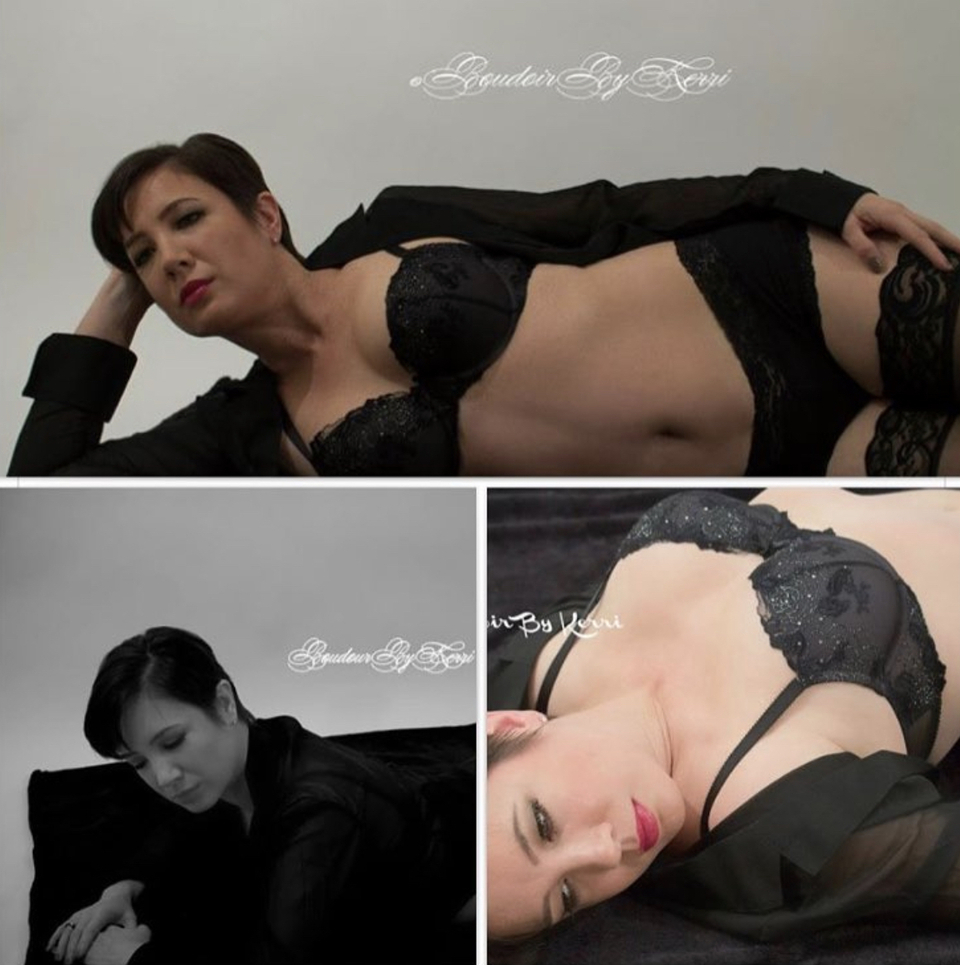 Your Private Boudoir Shoot is more than a photography session it's a transformation and celebration of confidence, beauty, fun, and everything that makes you feel gorgeous in our studio. Complete with professional stylists, makeup & hair, skillful art direction, laughter, music, and wine (don't worry I have water, juice and soda also) at every turn.

Our clients are women who "always wanted to" but thought they "never could." Even if you think you're "not photogenic" or you live in a pair of sweatpants — we will uncover your inner vixen!

Want a custom handmade leather-bound photo album, fine art piece, or a cheeky voyeuristic peep-show package… we are here to make it happen! Your session will blow your hubby or significant other away or make your ex drool……Each Private Shoot is a celebratory experience, with memories that will last you a lifetime.

Boudoir Photo Shoot Tips  
Call to confirm your appointment 24 hours ahead of time.

Don't drink alcohol the night before, which can make you puffy. 

Don't get your hair cut the same week as your appointment. Usually hairdressers style hair to look best a week or two out from trim day

Women...be aware of your fine hair around your lip. If you need to get it waxed do so. Also wax/shave eyebrows, legs, underarms, bikini etc

Try not to have any sunglasses on about 15 to 20 minutes before the shoot. 

Get Plenty of rest the night before your shoot.

Please EAT 30 mins to an hour before the shoot. If you do not eat your senses dull and your body actually feels heavier. 

It's very smart to drink a lot of water the week leading up to the shoot. Your skin will love it and your body will look very good!

lingerie should be logo free... solid colors or patterns are great however a logo dominating the shot not so good! 

Bring at least three sets of lingerie 

DO strive to look natural. 

DON'T act in your shoot or pose stiffly and artificially. Ideally, you want your images to emphasize both your uniqueness and your versatility. This shoot should capture your true personality and type in a naturally compelling way. Stretch as much as possible for 10 minutes every day for a week before the shoot.

This shoot is to show off the most glamorous version of you. 

Show up to the studio 15 minutes early. Never arrive late.

Don't get facials close to day of shooting. Have AT VERY LEAST a week of time before the shoot and your last facial.
*Book a session the same day as your friend and you save $50.
  (must book the same day)*

Contact us today to choose an ideal day for your dream-shoot!

Packages starting at $299 & up.
All major credit cards accepted
203-535-7197